AXES - AXE SHEATHES
& BOLT CUTTERS
Fire Hooks Unlimited
(732) 280-7737
MAXX-AXE

An excellent tool for forcible entry or roof ops.

Dynamic function of a sledge hammer and cutting axe. The overall weight with the handle is 10 pounds.

Lock slot locking feature for your halligan tools.
ALL-AXX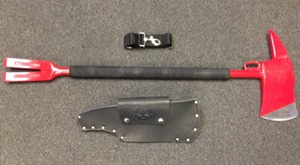 Designed roof axe
The ALL-AXX is an 11 pound steel handled axe with a 6 lb. pickhead on one end and a halligan fork on the other. Designed for the roof, the 6 lb. blade can make a crevice so the fork can fit in the bulkhead door. The spike can be used as a handle to pry open the crevice or it can pull the roof open after cutting it with a saw. The top of the axe is a striking plate so you can drive the fork into the crevice if necessary. The ring can be used to rope vent windows with a half hitch on the handle.
The axe can be hip carried with a carabiner or by using a sheath with shoulder strap.
It can be ordered alone or as a set (pictured). The set includes a shoulder strap and leather sheath, which has a 3 inch belt loop.
PART # (ALL-AXX) OR (ALL-AXE SET)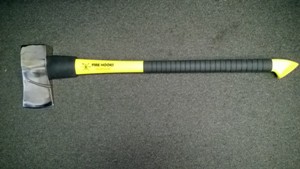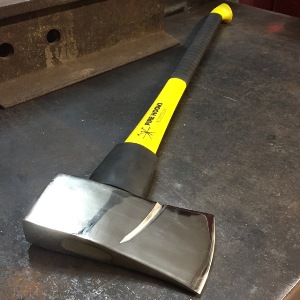 LOCK SLOT 8 (LS-8) FORCIBLE ENTRY FLAT HEAD AXE

***WE HAVE LIMITED QUANTITIES OF BROWN HANDLES AVAILABLE FOR THE LOCK SLOT***
The Lock-Slot 8 Forcible Entry Axe is a perfectly balanced Force Axe in the hands of a firefighter for striking the MAXIMUS Forcible Entry Halligan Bar. The Lock-Slot 8 features a drop forged head of high carbon steel, rockwell heat-treated and coated with anti-rust zinc plate. The "marrying slots" lock the MAXIMUS or the Pro Bar to the axe for easy carry by one hand - no straps needed. To quickly release from the married position, simply tap the handle on any surface. The Lock-Slot 8 has a yellow triple strength fiberglass handle with a deer's hoof knurled bottom and a Thermo rubber grip. An added overstrike at the head helps measure where your hand should be placed when striking an iron.
LUMINOUS FORCE AXE (LFA-8)

The luminous force axe comes with an 8 pound lock slot head and a luminous fiberglass handle.



ADZ-AXE 8 LBS -- (AA-8) 8 LBS. AXE WITH ADZ-BRACKET
Super 32" yellow fiberglass handle with a "deer hoof" holder. Three times the strength of a regular axe handle.
The Adz-Axe marries a Pro-Bar 30" Halligan. The two can finally be carried in one hand leaving the other free to
carry additional tools or for other tasks.
AN ORIGINAL FROM FIRE HOOKS UNLIMITED.
FLAT HEAD AXE - 8 LBS. (FA-8)
Our Force Axe is 8lbs and the ideal tool for forcible entry. This axe offers a large strike surface, balanced design and a contoured head to be used as a wedge when necessary.

PICK HEAD AXE - 8 LBS. (FAP-8)
Our 8lbs Pick Head Axe offers a large spike to maximize penetration into roofs.

AXES
Pick Head Axe 6lbs. (FAP-6)- Fiberglass or Hickory
Flat Head Axe 6lbs. (FA-6)- Fiberglass or Hickory

* AXE CAP - Protective Cap for Pick Head Axe available

TRUCKMAN'S AXE
Fiberglass 6 lbs. pickhead axe with overstrike protection and exclusive self extinguishingceltex grips. Will fit all truckmans belts and is 28" long.

CHROME PICK HEAD AXES
Pick Head Axe, available in fiberglass or hickory wood handle

* AXE CAP - Protective Cap for Pick Head Axe available

PARADE AXE
2 1/2 pounds ... made of light weight aluminum. Polished to a high luster. Hickory handle.
* Not For Cutting *
MARRY STRAP (MS-1)
Designed to free one hand allowing the other to hold onto a stair railing, ladder rung, or hold a flashlight. Its purpose is to "marry" the irons (axe & Pro-Bar) to eachother so the unit can be carried together by one hand.


DYNAMIC-TRIO (DT) features the "IRONS" - 8lbs. Force Axe, 30inch Pro-Bar, Marry Strap.

We also offer our DYNAMIC-FOURSOME (DF) which features the "IRONS" - 8lbs. Force Axe, 30inch Pro-Bar, Marry Strap, and K-Tool Unit.

Also pictured is the IRONS NEST (IN-1) mounting system, which can be mounted vertically or horizontally.

BOLT CUTTERS
Heavy duty contractor quality bolt cutters for a variety of cutting tasks including locks, chain links, reinforcing rods, bolts, rivets. Sizes are 18", 24" and 36"

FIBERGLASS BOLT CUTTERS
Non-conductive bolt cutters with fiberglass handles.
18", 24" and 36"

NON CONDUCTIVE CABLE CUTTERS - Model #NCCC-28 inches long with 17" long of solid fiberglass handles. Rated fiberglass at 25,000 volts per inch with added celtex for a no slip grip. Made for house current and low volt operations. HIGH VOLTAGE SHOULD BE LEFT TO YOUR LOCAL UTILITY COMPANY.

TRUCKMANS AXE SHEATH Click Here

Our newly designed Axe Sheath with full leather flap. Dual attachments of CLIP GROMMETS on a large belt loop (3-inch) can hold both our T-AXE and the 3-LBS TRUCKMAN'S AXE.

The clip grommet attachement is for our seat belt quick release strap. Can be worn as a waist or shoulder belt.

Press our quick release button if any hang-ups happen, and the whole unit drops off ... Another first to be safe.
| | |
| --- | --- |
| Flathead Axe Sheath | |
Click for a DISTRIBUTOR near you

HOME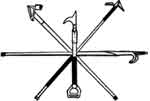 © 2018 Fire Hooks Unlimited
All Rights Reserved