BOLT CUTTERS
Fire Hooks Unlimited
(732) 280-7737
BOLT CUTTERS

(PART: BC-SIZE)


Heavy duty contractor quality bolt cutters for a variety of cutting tasks including locks, chain links, reinforcing rods, bolts, rivets. Sizes are 18", 24" and 36"

FIBERGLASS BOLT CUTTERS

(PART: NCBC-SIZE)


Non-conductive bolt cutters with fiberglass handles.
18", 24" and 36"

NON CONDUCTIVE CABLE CUTTERS -

(PART: NCCC-28)


28 inches long with 17" long of solid fiberglass handles. Rated fiberglass at 25,000 volts per inch with added celtex for a no slip grip. Made for house current and low volt operations. HIGH VOLTAGE SHOULD BE LEFT TO YOUR LOCAL UTILITY COMPANIES.

Click for a DISTRIBUTOR near you

HOME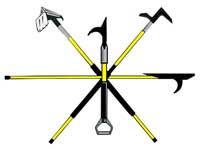 © 2017 Fire Hooks Unlimited
All Rights Reserved