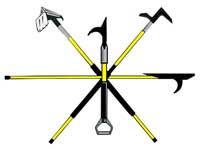 LITE LOOP - LITE DROP -
TOOL LOOP STRAPS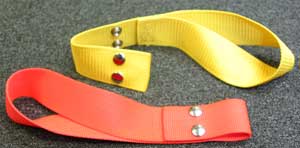 Available in Yellow and
International Orange
LITE LOOP
The carry strap for any handled flashlight. Loops around the handle with heavy duty nylon and attches to any belt. Specifically made for your SCBA since the loop can be attached and removed after your SCBA is buckled using two heavy duty snaps. We are using two colors (Yellow and Orange) for lumination in smoke or poor light situations. The Orange matches the New FIRE VULCAN by Streamlight.

An emergency release can be made if hung up by pulling a specifically designed tab - Use of this tab can also be used if you wish to use the light in a portable state in your hand.
LIGHT
DROP


THE LITE DROP IS THE NEWEST AND SAFEST HOLDER FOR YOUR HANDHELD FLASHLIGHT. MADE WITH A TWO INCH STRAPING WITH A TWO INCH BELT LOOP, THIS CAN ATTACH TO ANY BELT OR AIR PACK AND WILL STANDUP TO THE RIGORS OF THE JOB.

THE EASY DROP IS MADE BY A "GLOVE FRIENDLY" BUCKLE RELEASE, WHICH ALLOWS USE IN THE HAND OR EMERGENCY
RELEASE - DURING ANY HANGUP.

WE CHOSE THE COLORS YELLOW AND INTERNATIONAL ORANGE
TO BE NOTICED DURING POOR LIGHT SITUATIONS. THE INTERNATIONAL ORANGE MATCHES THE NEWEST FIRE VULCAN FROM STREAMLIGHT INC.
TOOL
LOOP

This multi-function strap can be quickly attached to a harness or SCBA waist strap. Can carry an axe, halligan, or a variety of other tools.

The carabiner can be removed and used as necessary.
Fire Hooks is the
Original Manufacturer of this
product.

Click Here for STREAMLIGHT

Click Here for FIDNEY BELT


HOME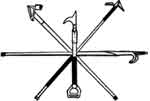 © 2003 Fire Hooks Unlimited
All Rights Reserved